The ship finally arrived in the wee hours of December 1st.
I made contact with the Argentine representatives of K-line – Mr. Martin Flores of Capricorn logistics.  I visited his office in Buenos Aires and for a small fee he issued a document stating that I had the original bill of lading and it was debt free.  He then sent an introduction email to his partners at Terminal Zarate Operations.  They could provide some support to clear the vehicle if needed.
I am still looking for truck insurance and not having much success.  Customs will want to see proof of coverage before letting the truck into Argentina.  I spent the next couple of days searching the internet for leads and running around Buenos Aires.  My daily step count was improving.
I had done homework prior to leaving and had printouts and prices from major insurance companies with quotes.  The problem was that no one would insure a vehicle not registered in Argentina.
Using Wiki Overland, Horizons Unlimited and other internet sites I ran down a number of leads.  It can't be that difficult, cars entering the country by road usually have the opportunity to purchase a policy at the border.  I had limited success getting quotes online.  On my third day working on this full time, I followed a lead that was in fact a 5 minute walk just across the street from my hostel.
I was able to purchase a 6 month policy that provided coverage in all MERCOSUR countries from Seguros Rivadavia.  The agents in the office were great to work with, the transaction was quick and painless.  I instantly received my proof of coverage that I would need to clear the truck.  I would highly recommend this company to other travelers.  They tell me that I can renew by email online when needed.
The following day I planned to leave early and take the two hour bus ride to Zarate.  I had taken the train on an earlier scouting trip.  The train was cheap, less than a dollar but it took 6 hours with a connection and there were only a couple of trains each day.  The Chevallier bus was reasonable, less than 4 dollars, had luxury reclining seats, took less than 2 hours, ran direct every 20 minutes from the bus terminal near Plaza Miserere and terminal Once in BA.
I arrived in Zarate at the bus terminal around noon the following day and grabbed a taxi for the 20 minute ride to the marine terminal.  At the marine "Terminal Zarate" security gate I was sent walking to a customs office about a mile down the road, where I showed all my paperwork and payed my port charges and customs fees, around 65 dollars.  I was issued more paperwork and was told I could retrieve my vehicle.  I walked back to to the security gate, my documents were examined, I was issued a temporary Port ID badge with my photo on it, a reflective vest and steel toes to strap onto my shoes.  I was security screened with a metal detector wand and my bag was searched.  I was repeatedly asked if I had a laptop I actually had two laptops and that was noted.  I was then admitted into the port and pointed to the bus stop.  I then proceeded to the operations office where more I was told that the first office forgot to put something in the computer and I needed to go back.  This time it was easier as being on the inside I utilized one of the passenger vans used to transport employees and visitors and was dropped off inside the perimeter fence back at the first office.  It took the customs officers about 45 minutes to get the problem straightened out and I was on my way back to operations.  Back at operations more checking of my documents and now I am told I am missing something and need to go to a customs office in another city, Campana, which is 17 miles away to acquire more paperwork.  It is now late in the afternoon and it is doubtful this can be completed today.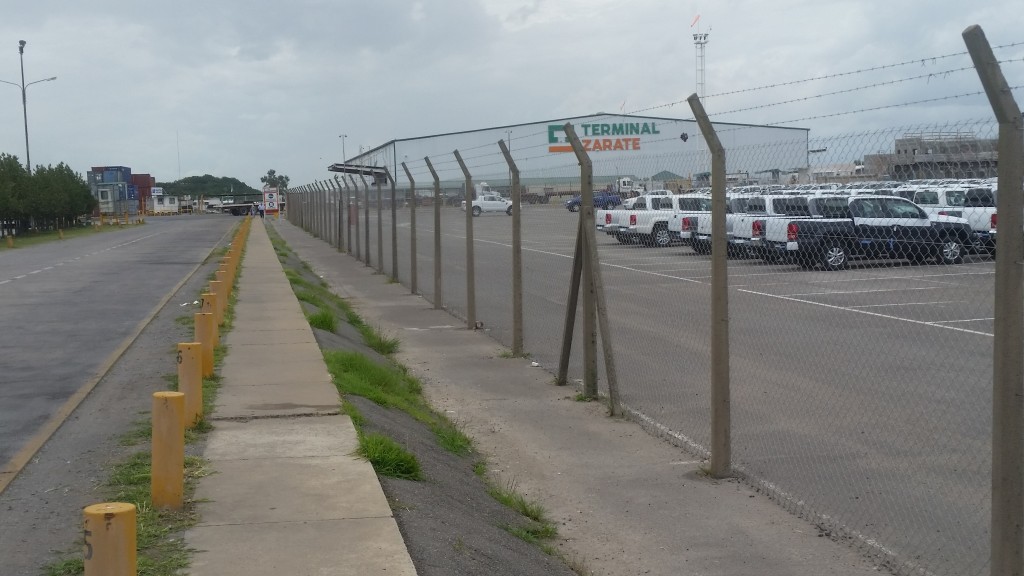 With the help of a very nice taxi driver I began looking for a hotel.  It was quite a problem as every hotel seemed to be full.  I finally got lucky and found a very nice hotel for 63 dollars.  It was only available for one night so I had better get the camper out tomorrow.  Also, on my earlier scouting trip a cab driver had showed me a very nice restaurant, "Afiche".  I had another great meal with a bottle of wine, I am starting to like Zarate.  By now I was in the midst of a huge thunderstorm.
Up early the following day, grabbed a taxi to the customs office in Campana to get the missing documents.  It took about 2 hours and I now have a large red folder with new documents.  My insurance and title paperwork were examined and I was issued the temporary import papers for the truck and camper.  I must say that at every step of the process the customs people were very nice.
Now, taxi back to Terminal Zarate, same procedures, same steel toes, hi viz vest, questions about laptops, security screening and new temporary ID.  Several stops later I finally had the truck and was on my way.  Once again very nice, warm and helpful officials.
Back to the Hotel in Zarate to pick-up the bags and find a spot for the night.  Need to get the bags unpacked and stowed and acquire supplies for the camper.