Just 62 miles south of Aconcagua lies Tupungato, at 22,375 feet it is the 14th tallest mountain in South America.  Unlike Aconcagua, Tupungato is a Volcano.
Tupungato Provincial Park is 69 miles southwest of Mendoza, but it is not easy to get there.  There doesn't appear to be any paved access to the park.  Tourist information is very sparse, it is not even known by Google Maps at the time I am writing this.
Wanting to get more information and a closer look at the area I head to the town of Tupungato.  The center of town has a large, quiet and pleasant central plaza.  There are a few parking spaces in the plaza, across the street from the police station.  It is Sunday afternoon and almost everything is closed.  Thunderstorms are on the horizon.  I decide that this may be a good place to spend the night, access WIFI and do some research on how to get to the park.
The beautiful plaza looks like an ideal place to "camp".  It is clean, quiet, right in the center of town and across the street from the police station.  I park and ask the police if it would be OK to park for the night.  The officer in charge tells me sure it's OK and he tells me that there is a kitchen and bathrooms in the station that I would be welcome to use.  He then instructs one of the officers to show me around to acquaint me with the facilities.
Once inside the bustling station lots of discussion is occurring about where I should spend the night.  The general consensus is that I would better enjoy their municipal campground, where I am guessing many of their families have gone for the weekend.
The commander in charge offers to lead me to the campground.  She has me follow her police vehicle like a VIP and I get a police escort to Tupungato Municipal Campground.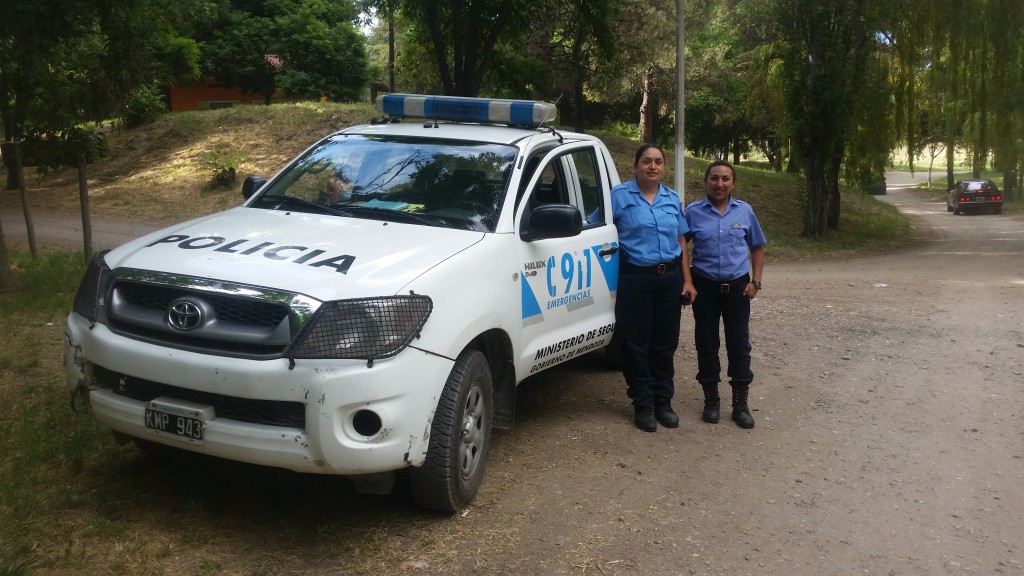 It is Sunday evening on this long Christmas holiday weekend, the campground has been busy but the local campers are beginning to pack-up.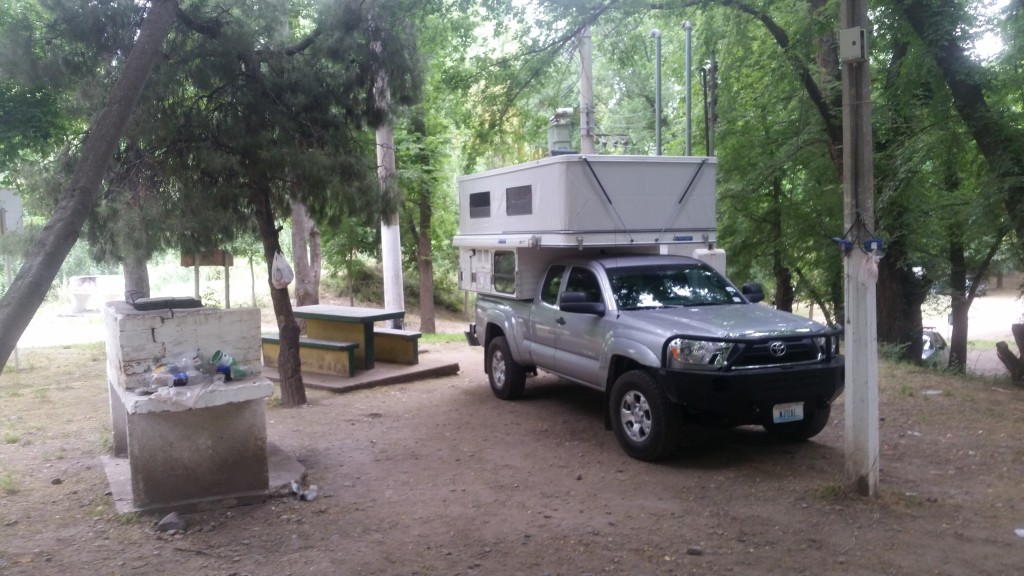 The campground is on a river where people are wading, fishing and having a great time.  I meet a lot of nice people including a couple of families from Tupungato.  Lifetime residents of the area they have no idea how to access Tupungato Provincial park.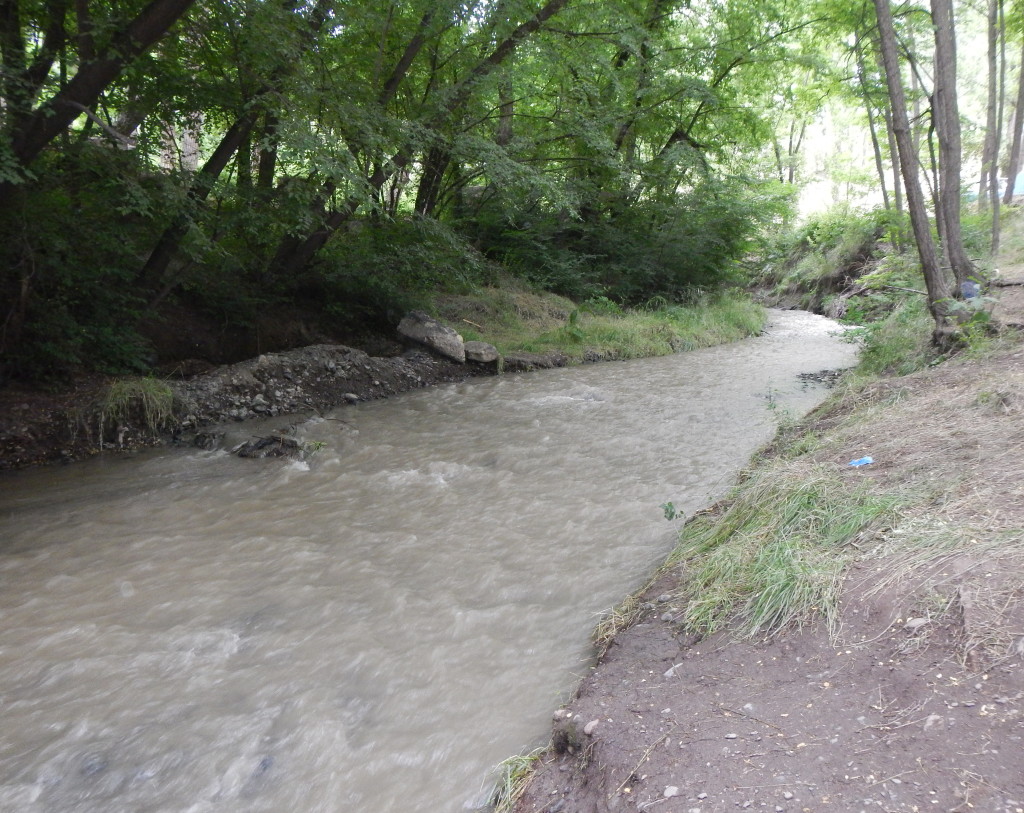 The head of one of the families runs a soccer field and club in town and presents me with a brand new pair of his club's uniform shorts.  I guess I will need to learn to play "football".
I am introduced to the future son in law of another man.  Guiliano, who happens to speak perfect English.  It seems Guiliano's father has an international software analytics business and the son is the interpreter for customers in the U.S.  I get a  demo on his phone.  The software analyzes traffic cameras at intersections and automatically detects collisions and alerts authorities, pretty impressive.
Departing in the morning, I stop at the campground office to settle my bill.  They would not accept any payment and wished me "buen viaje".   The manager gives me directions on how it might be possible to approach Tupungato.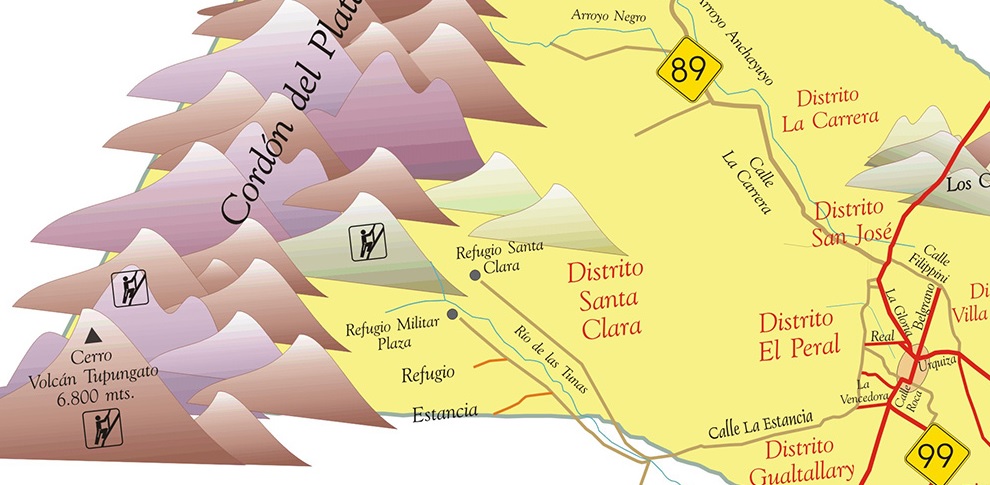 The park entrance and ranger station are located at Refugio Santa Clara which is at the end of a rough track, that starts out as Calle La Estancia and then crosses the Rio de las Tunas.  It is once again a beautiful drive through vineyards, fruit trees and desert.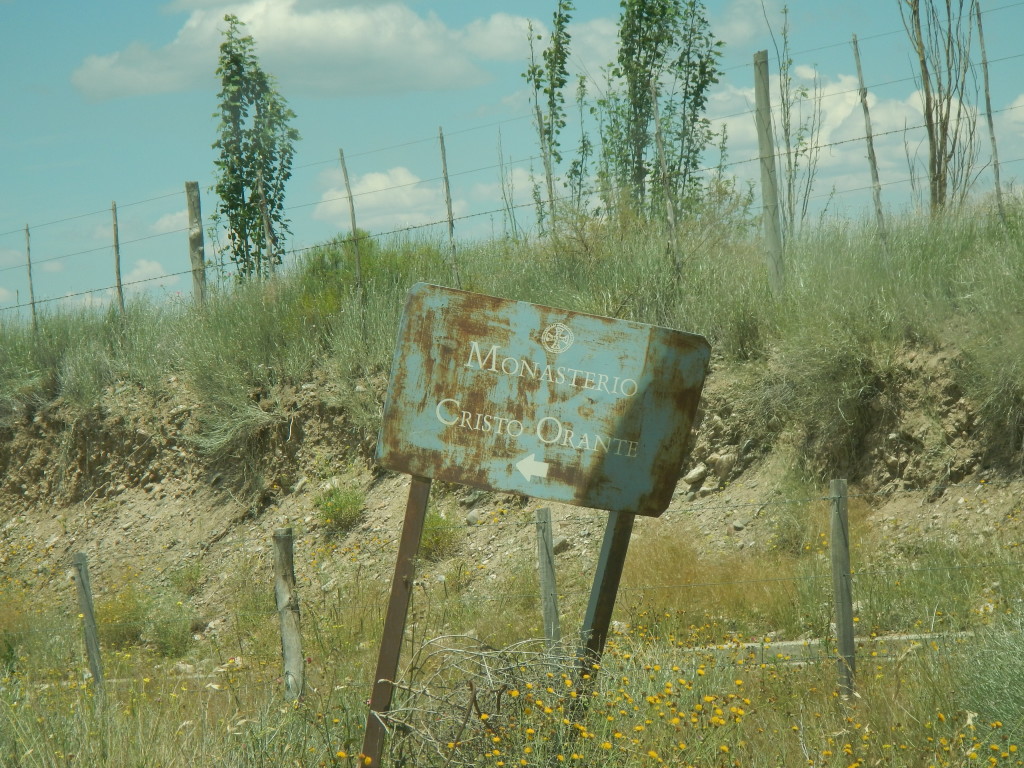 I pass many vineyards with fancy entrances, a monastery of cloistered monks, Monasterio del Cristo Orante, and the posh looking "Auberge Du Vin".  I stop to take photos at the entrance and am invited in for a tour.  I decline, sensing it is beyond my budget. I find out later that rooms start around 250 USD per night.  It looks very nice.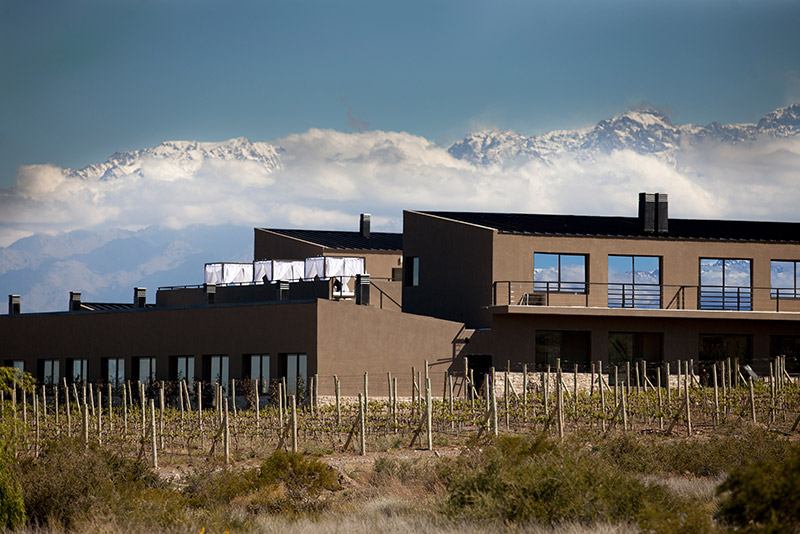 I continue down the road crossing several streams and through a a couple of small picturesque settlements.
I pass the massive entrance to the Huentala Wines.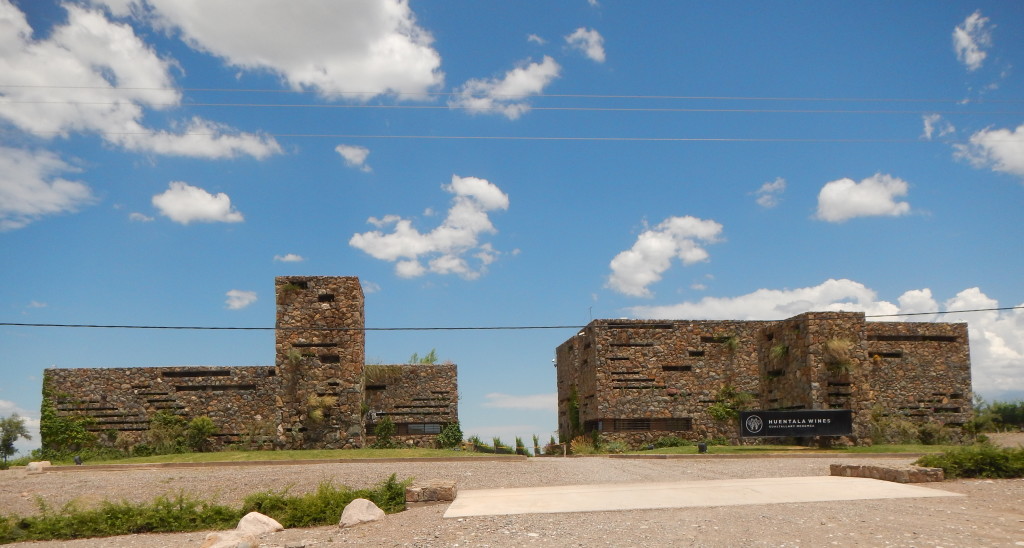 I finally come to the Rio de las Tunas.  Across the river the road begins climb more steeply.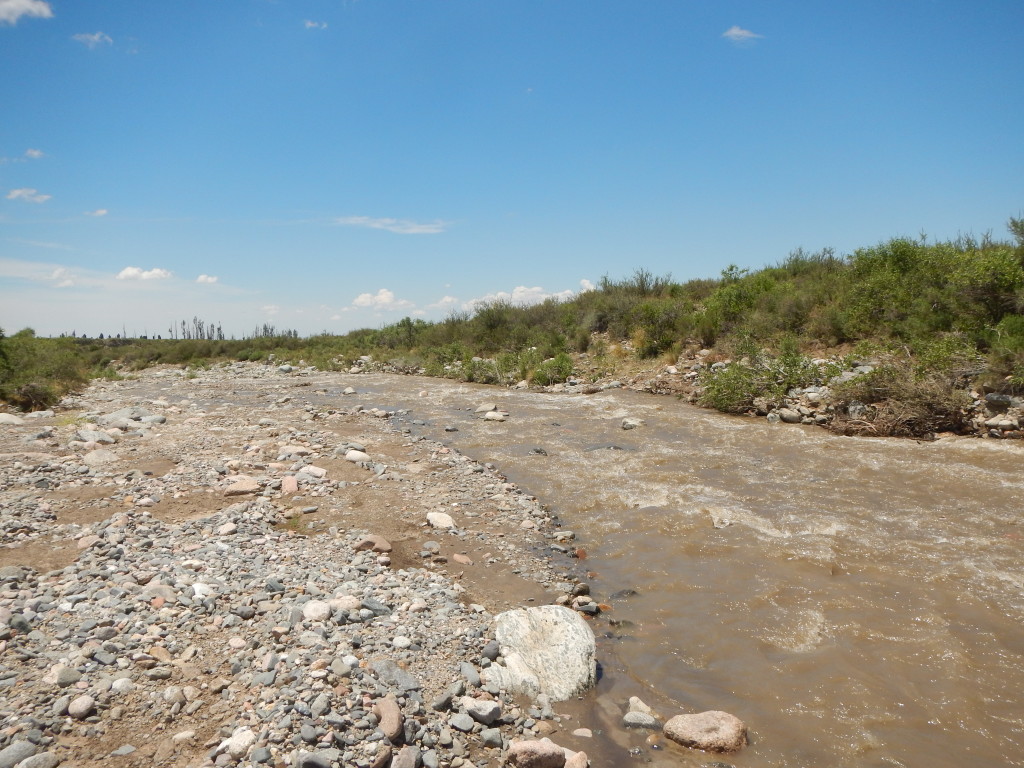 I have not seen another vehicle in a while, though I am told, the army sends a patrol up the road every day.   Afternoon thunderstorms are building.  A single vehicle with few extraction options, I decide to play it conservative and not press-on.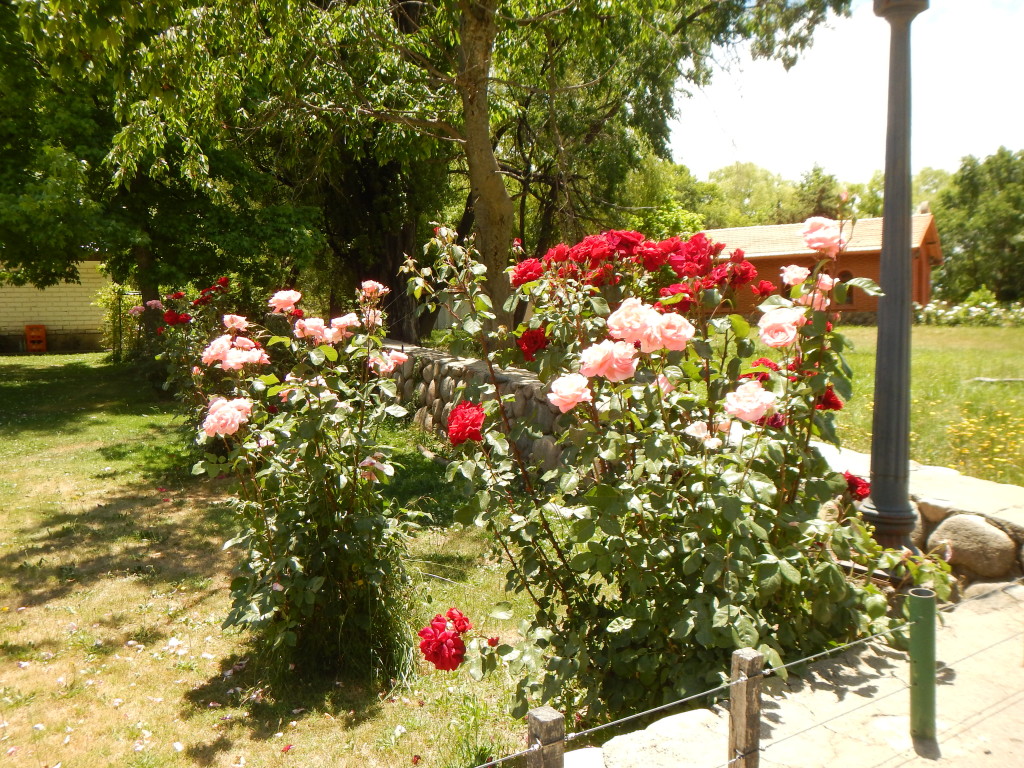 Clouds are building and views of the mountains are obscured anyway.  I enjoy a beer and nice lunch on the river and then head back toward Mendoza.